FANCY SOME FRIDAY NIGHT FRIGHT AT DARK?
The Inaugural Trick or Trail 5 Mile & 1 Mile Spooky Sprint
October 30th, 2015
from 6:30 PM until….
at Dupont Forest: Guion Farm Event Area, Hendersonville, NC
Runners will experience the beauty of DuPont Forest in a unique nighttime racing format. The only race of its kind in the region; participants will strap on headlamps and duke it out in the dusk.
The twists and turns of DuPont's famous trail system will dare you to push forward, not knowing what specters might lurk around each corner! The One Mile Spooky Sprint will be Halloween themed, and a great chance for kids and kids-at-heart alike to break in costumes a day early, without about speed because the One Mile event is un-timed!
---
ONLY 300 SPOTS, SO REGISTER FAST! 
We are HALFWAY full!
This unique event is guaranteed to draw a lot of interest,
so act fast if you want to test your nerve with us!
Headlamps/Flashlights are required for this event!
"Headless Headlamps" available for purchase during registration if you need.
Custom designed "DeFeet the Darkness" socks available for $5.00. Purchase during registration, limited sizes available.
Ghostly Glowsticks are only $5.00, purchase with registration.
To keep entry fee prices low, there will be no race shirts so if you want a race memento, purchase an item above when registering.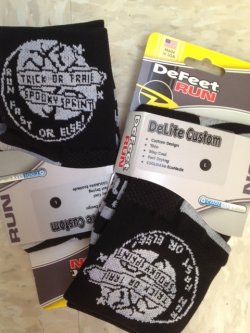 ---
---